Thank you for the TSAA!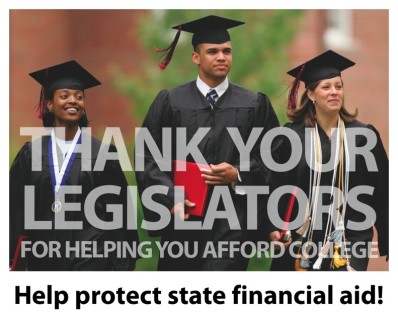 Thank you for taking the time to send an email thanking your Tennessee legislators for the Tennessee Student Assistance Award! This is the state's only purely need-based student aid program.
The legislatures appropriates over $100 million each year to help students attend the college of their choice. This is an incredible amount of money! Over 68,000 Tennesseans benefit from this program.
PLEASE make this message personal! There will be draft text available to guide you but take the time to mention the college you attend, your academic major, and any personal message about how important this grant is to you and your family.
This will only take a few minutes to draft. Once you put in your contact information, the system will automatically identify who your Representative and Senator are. No need to try and figure that out yourself.
Again, thank you for taking a moment to be grateful for what you've received!
All the best!
First, Enter Your Zip Code